Newsies for January 2005
Sold Out: 2005 Spasmodica Calendars
Where's Nastasiya, Yo?
News Archives:
Plush Pleasures: The Art of Spasmodica Exhibit
New Merchandise for November 2004
Renegade Craft 2004
"Characters by Design" Toy Art Exhibit
Rotofugi Toy Store & Gallery Opening in Chicago
First-ever Limited-edition Dolls
Spasmodica in Pictoplasma 2
Create a Creature Contest Winner
New Pricing Includes Shipping

Sold Out: 2005 Spasmodica Calendars
Thanks to everyone who ordered a Spasmodica 2005 CD Desktop Calendar. I'm happy to report that these lovelies are sold out! But don't fret. I'll order an ample supply next year to make sure there's enough to go 'round. Gosh.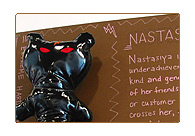 Nastasiya's a fairly new character, so why is she a no show?! Well, Nastasiya was invited to host an Underachievers Unlimited Workshop in Seattle. The workshop has been well received, and the planners decided to extend its run for several months. We miss Nastasiya, but we look forward to seeing her return some time in the fall.