Newsies for May 2007
Plush-o-Rama in Bookstores Now
Medical Experiments in Plush – A Toy Show
Yummy Liquid Treat Plug
News Archives:
New Merchandise for June 2005
Spasmodica's TV Debut on HGTV's Crafters Coast to Coast
Warning: A Plushtastrophe is Coming!
Fave Creature Contest Winner
Spasmodica Participates in The Funny Club Show
Sold Out: 2005 Spasmodica Calendars
Where's Nastasiya, Yo?
Plush Pleasures: The Art of Spasmodica Exhibit
New Merchandise for November 2004
Renegade Craft 2004
"Characters by Design" Toy Art Exhibit
Rotofugi Toy Store & Gallery Opening in Chicago
First-ever Limited-edition Dolls
Spasmodica in Pictoplasma 2
Create a Creature Contest Winner
New Pricing Includes Shipping

Plush-o-Rama in Bookstores Now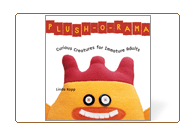 Looking for some fun inspiration? Want to learn how to make your very own plush dolls? Then pick up a copy of Plush-o-Rama by Linda Kopp. The book features more than 30 projects, providing step-by-step instructions on an amazing variety of plush characters. The book's impressive roster of cool contributors come from all around the globe, including Rosa Pomar (Portugal), Maria Samuelson (US), Carly Schwerdt (Australia), Kate Sutton (US), and of course, Spasmodica. We're especially grateful and giddy to be one of the select few with a designer's profile in the book. Surprisingly, we didn't even have to bribe anybody.
Plush-o-Rama retails for $14.95 US ($19.95 Canadian), and is published by Lark Books. But you can get a copy on sale for the bargain price of $10.17 at Amazon.com (check out the great reviews!). Not keen on online shopping (then what are you doing here?!)? This fine publication can also be found at most major bookstores. (Prices and availability current as of May 7, 2007.)

Medical Experiments in Plush – A Toy Show
Spasmodica recently participated in the Medical Experiments in Plush exhibit, curated by Stupid Creatures and PUSH Skateshop in Asheville, North Carolina. As the name suggests, this unique plush doll exhibit showcased pieces with a medical experiment theme. Many well-known and fresh-to-the-scene plush artists participated, including Dan "Grickily" Goodsell, Heidi Kenney, Joshua Longo, and Mr. Pickles.
Not wanting to take the direct blood and guts or gore and stitches route, Spasmodica's interpretation involved depicting a creature after it had been part of a genetic experiment, and the surprising but positive results of that experiment. Waddle lives!
Spasmodica thanks Liquid Treat, "the designer's thirst-quencher served weekly," for including us in a recent edition of their newsletter. We appreciate the yummy plug in the Hot Shots section!