Newsies for April 1, 2005
Warning: A Plushtastrophe is Coming!
Fave Creature Contest Winner
Spasmodica Participates in The Funny Club Show
News Archives:
Sold Out: 2005 Spasmodica Calendars
Where's Nastasiya, Yo?
Plush Pleasures: The Art of Spasmodica Exhibit
New Merchandise for November 2004
Renegade Craft 2004
"Characters by Design" Toy Art Exhibit
Rotofugi Toy Store & Gallery Opening in Chicago
First-ever Limited-edition Dolls
Spasmodica in Pictoplasma 2
Create a Creature Contest Winner
New Pricing Includes Shipping

Warning: A Plushtastrophe is Coming!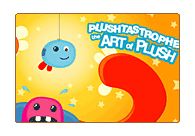 Plushtastrophe will be hitting Chicago this April at the Rotofugi Toy Store & Gallery. This travelling exhibit features incredible plush toy creations by more than 100 international artists, including Spasmodica. All creatures on display at the show will be for sale. Oh, boy!
If you're a fan of the indie plush movement or enjoy seeing what happens when design boundaries cross over into the artistic toy realm, or perhaps you just appreciate things that are kick-ass cool, then you'll definitely want to check out this show. One of my two pieces is named Johnson. And that's all I can reveal about my contributions at this time. ;)
Don't miss the Plushtastrophe opening reception on Friday, April 8th! Be my personal guest. The party starts at 7 pm at Rotofugi, 1953 W Chicago Ave. Free drinks. Spinning by DJ Clayton Counts.
Congratulations to Amy B. for winning our latest contest where we asked you to tell us which Spasmodica character that you liked the best. She chose Squirmy and here's why:
"I don't think I have ever seen anything that looked like a sperm with hair before."
Ah, such succinct, winning prose. As the first-place winner, Amy will receive a 2005 Spasmodica CD desktop calendar. I also enjoyed Dawson and Susan's submissions, so they each can expect to receive a little sum'n sum'n in the mail as well.
Congratulations, Amy, and thanks to everyone who took the time to enter!

Spasmodica Participates in The Funny Club Show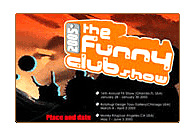 What do you get when you give more than 140 US and international artists an empty canvas in the form of a blank 4" Funny Club figure? The result is a fantastic traveling exhibit called The Funny Club Show.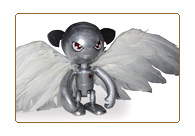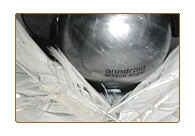 Spasmodica's submission appeared in the form of an ode to Battle Angel Alita. Christened Anndroid Attack Angel, the chrome silver, white-winged creation sported Gunnm's eyes and a heart, complete with scratches from battle damage. We hope others enjoy our interpretation of one of our favorite anime characters.
The Funny Club Show kicked off in Chicago at Rotofugi on March 4, 2005. From Chicago, the exhibit travels to Munky King in Chinatown LA before making its final stop in Taiwan.
Blank Funny Club photo by Nakanari.
Battle Angel Alita is a trademark of Viz Communications Inc.